A composite is a collection of portraits of the individuals, their names arranged to your specifications to reflect the image you want.
Ways to send composite order into lab.
1) Order form from book with CD
Fill out the form completely, you will need title block from each class if you have more then one.
2) UPILab Roes
In the ROES Composites category in the sizes palate in UPILab Roes you can either choose the composite only product and send all your photos to use to build the composite or build your own. In the option palate you can choose how you wan the composite to look like. If you want ?something special? just type up what you would like in the special instructions and if we have any issues we?ll just call.
3) FTP
If you usually use FTP you can upload your photos that way as well, just include a document with the instructions.
4) Lablink
Like ROES Lablink has a special product in school items for Composites that just sends us the images to build.
5) In house already
If we already have the images in house for other items like packages/service items you can just fill out the order form and fax it to use. Or if you are in a hurry please send an email to digital@upilab.com with complete instructions detailing your new composite job and we will take care of the rest. Please remember that we only keep images for 60 days and if you order after that you have to resend the images.
There is an initial setup fee of $4.50 for a standard composite and a $30.00 fee for a custom setup per class. You must take into account an indexing fee. Please refer to our pricelist for more specifics.
Standard
Basic image layout on standard size background. (solid color or approved image)
Basic text block placement. (see example)
Above shown frame and data listing options. (any color)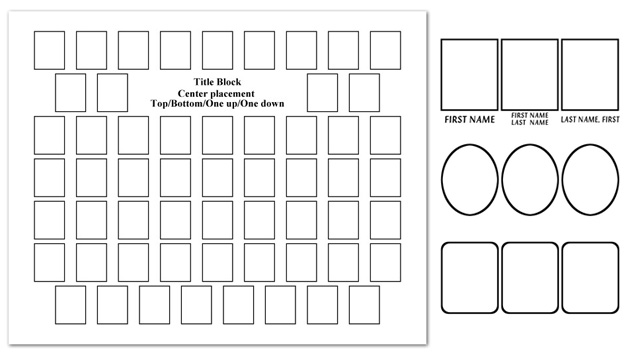 Custom
Everything a standard composite offers plus more!
A wide range of color/fonts and backgrounds!
Larger title block placed anywhere!
Ability to include logos!
Placement of your company info!